How to Celebrate Black History Month with food
Black History Month is a time in which we learn, reflect, and celebrate the influence African Americans have had on North American culture. African American culture has had significant influences on language, science, social movements, music, fashion, and, of course, food. Let us unpack some of the history of the foodprint African Americans have had on the North American cuisine. Then, I will share a rich and flavorful recipe sure to fill your tummy and your soul.
The Foodprint of African American Culture
Much of North American cuisine can be understood through our country's complicated history. Many common ingredients found in North American cuisine, including beans, rice, okra, peanuts, sweet potatoes, greens, and watermelon, were brought over during the trans-Atlantic slave trade. Cooking styles and flavor profiles such as barbeque, creole, Cajun, and soul food originated during American slavery. Enslaved Africans used their rations, crops from their garden, and the "undesirable" or "discarded" cuts of meat or seafood to create dishes now popularized for their rich and satisfying flavors.
Soulful Community and Food
One of the greatest ways African Americans have influenced food culture is through soul food. Soul food, a term coined during the 1960s Civil Rights Movement, refers to black people's homestyle cooking. It's used to celebrate the ingenuity, skill, and resourcefulness of cooks who developed distinctive mouthwatering flavors despite limited means during enslavement. It demonstrates that food has always been an expression of the African American community and culture.
Recipe: Stewed Okra and Tomatoes with Chicken Sausage
Enjoy this hearty soul food favorite packed with plenty of seasoning, flavor, and soul!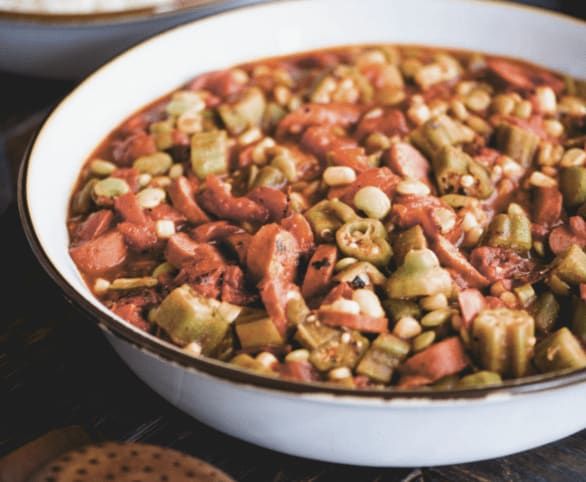 Ingredients:
1 package of Roasted Chicken Sausage
1 tsp. Olive oil
1 cup cut okra
3 tsp. minced garlic
1/4 tsp. salt
28 oz. fire-roasted crushed tomatoes
1/2 cup lima beans (rinsed and drained)
<
1/2 cup sweet corn (canned or frozen)
1 Tbsp. Creole seasoning
1 tsp. black pepper
1 tsp. oregano
1 tsp. paprika
1/2 Tbsp. basil
1/2 tsp. cayenne pepper
Directions
Slice the chicken sausage. In a large pan, cook on medium heat for 5 minutes. Remove sausage from heat and set aside.
Add oil, okra, garlic, and salt to the pan. Cook uncovered for 10 to 15 minutes.
Add chicken sausage, fire-roasted tomatoes, lima beans, corn, and all seasonings to the pan. Cook covered for 15 minutes.
Serve alone or with rice.