Happy St. Paddy's Day! Each year on March 17th (believed to be the date of St. Patrick's death) people all over the world get together in celebration of St. Patrick, one of Ireland's patron saints. Story holds that St. Patrick was born in Roman Britain but was kidnapped into slavery by Irish raiders at the age of 16. During his time as a slave, Patrick reportedly found God and escaped back to Britain where he became a priest.
St. Patrick returned to Ireland to teach Christianity among the pagan inhabitants. Legend suggests that St. Patrick taught the Holy trinity using the three leaves of an Irish clover, which is the shamrock. St. Patrick is also credited with "driving the snakes out of Ireland."
In Ireland, St. Patrick's Day became an official holiday in 1903. Celebrations in memory of St. Patrick include attending mass, hosting parades, pub crawls, dying rivers green and much more! Have you ever been pinched for not wearing green on St. Patrick's Day? Well, the color green has been associated with the holiday, and Ireland as a whole, since the 1600's. Nowadays, it is still common to don a green ribbon or shamrock on St. Patrick's Day.
On St. Patrick's Day, we often associate cabbage, corned beef, colcannon, soda bread and a good stout beer with celebrations. These foods not only taste good, many also have great health benefits. Cabbage is an excellent source of vitamin C, vitamin K and can help lower blood pressure. Colcannon (aka Irish mashed potatoes) is a mixture of creamy potatoes and cabbage (or kale). Potatoes supply us with potassium, vitamin C and fiber. Try adding mashed cauliflower with the potatoes for even more nutrients! Try these recipes (fresh from the "test kitchen") to get in the festive mood for your St. Patrick's Day celebrations!
Corned Beef and Cabbage (serves 6)
Adapted from Katie Wells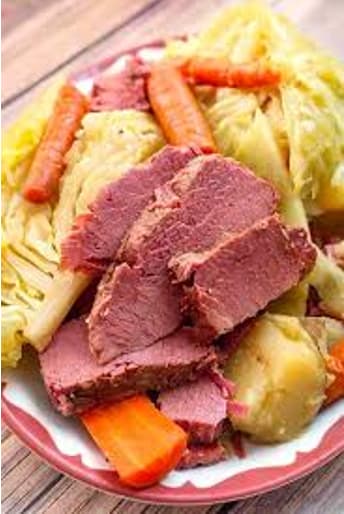 Ingredients:
3-4 pounds of corned beef brisket
3-4 garlic cloves (peeled and minced)
1 tsp black pepper
1 head green cabbage
2 yellow onions
2 peeled carrots
2 Tbsp unsalted butter
2 garlic cloves (peeled)
1 tsp caraway seeds
1 tsp thyme
1 tsp basil
Directions:
Preheat the oven to 350°F.
Drain the brine, rinse brisket under cool water (be sure to remove majority of extra salt on beef) and put it on a rack in a roasting pan.
Add about an inch of water to the roasting pan, cover the meat, and place in the preheated oven on the top shelf.
Roast for 2 hours.
While the meat is cooking, chop the vegetables into large pieces and place them on a baking sheet.
Drizzle the vegetables with melted butter or olive oil, sprinkle them with the spices, and place them in the oven with the meat on the bottom shelf.
After half an hour, uncover the meat.
Cook the meat and vegetables an additional half hour or until everything is tender.
**Note this can also be made easily in a Crock-Pot
Colcannon (serves 6)
Adapted from Kara Lydon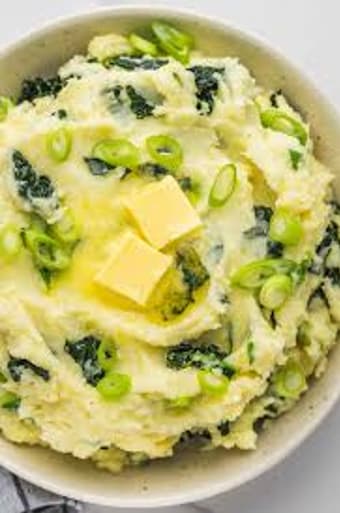 Ingredients:
Approximately 2 pounds of russet or Yukon gold potatoes, cut into large chunks (may also sub half potato with 2-3 C steamed cauliflower florets)
Pinch of salt (remove for low sodium option)
1 Tbsp olive oil
1 leek, trimmed and sliced
1 garlic clove, minced
3 C kale, finely chopped
¼ C water
¼ tsp nutmeg
¼ tsp salt (omit for low sodium option)
¼ tsp pepper
¼ C buttery spread or unsalted butter, divided
½ C milk of choice
Directions:
Add potatoes to a medium pot. Cover with cold water so potatoes are covered by an inch of water. Salt the water if desired.
Bring potatoes to a boil and boil until fork tender, about 15 minutes. Drain in colander. If using cauliflower in addition to potatoes, steam cauliflower for 6-7 minutes until fork tender. Set aside with potatoes.
In the same pot, heat olive oil over medium heat. Add leeks and cook until softened, about 5 minutes. Add garlic and cook until fragrant, about 1 minute.
Add kale and toss to coat. Add water, cover and cook for 3-5 minutes. Remove cover and reduce heat to low, stirring occasionally. Cook until kale is tender, about 5 minutes. Season with nutmeg, salt (omit if desired) and pepper.
Add potatoes back to pot along with buttery spread and milk and mash until creamy and combined with kale mixture. Season with more salt and pepper, to taste.
Transfer to a serving dish and create a well in the middle of the potatoes to add remaining 2 tablespoons buttery spread in the well.
Serve immediately.
Whole Wheat Soda Bread (serves 12)
Adapted from Darina Allen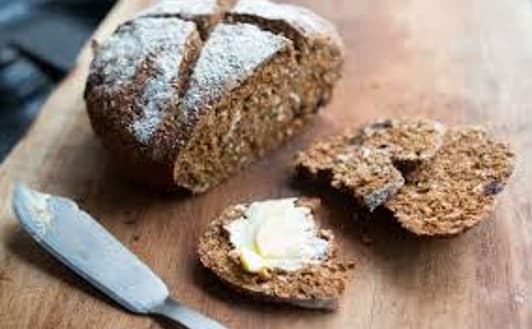 Ingredients:
2 C whole wheat flour
2 C all purpose flour (plus extra for final dusting)
1 tsp baking soda
1 tsp salt
2 ¼ C buttermilk (if you don't have buttermilk you can add 1 Tsbp vinegar or lemon juice to each 1 C regular milk and let stand for 5 minutes)
Directions:
Preheat oven to 450 degrees F. Coat a baking sheet with cooking spray and sprinkle with a little flour.
Whisk whole-wheat flour, all-purpose flour, baking soda and salt in a large bowl. Make a well in the center and pour in buttermilk. Using one hand, stir in full circles (starting in the center of the bowl working toward the outside of the bowl) until all the flour is incorporated. The dough should be soft but not too wet and sticky. When it all comes together, in a matter of seconds, turn it out onto a well-floured surface. Clean dough off your hand.
Pat and roll the dough gently with floury hands, just enough to tidy it up and give it a round shape. Flip over and flatten slightly to about 2 inches. Transfer the loaf to the prepared baking sheet. Mark with a deep cross using a serrated knife and prick each of the four quadrants.
Bake the bread for 20 minutes. Reduce oven temperature to 400 degrees and continue to bake until the loaf is brown on top and sounds hollow when tapped, 30 to 35 minutes more. Transfer the loaf to a wire rack and let cool for about 30 minutes.
**Feel free to add raisins or other dried fruit if desired