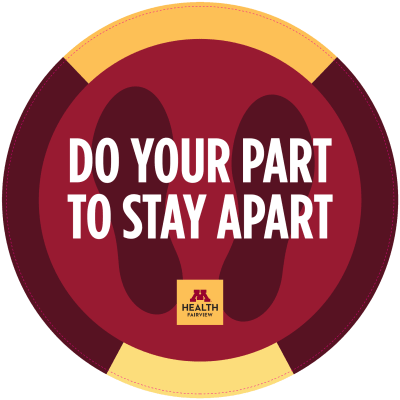 Ebenezer's Response to COVID-19
The safety of our residents, patients, and staff members who live and work in our communities is our top priority at Ebenezer. We have made some changes in our operation to maintain the safety of our communities. 
MDH and CDC Loosen Visitor Restrictions
Great news! Minnesota Department of Health is now allowing residents who are fully vaccinated to leave their care centers or assisted living communities for family visits and other activities—without having to quarantine for 14 days upon return. Previously, residents were only allowed to leave for medical appointments without having to quarantine upon their return to their community.
While we celebrate these developments, we also want to encourage you to follow appropriate guidelines in order to lower the risk of spreading COVID-19. We will continue with surveillance testing and may need to shut down visitation allowances if a resident or staff person tests positive in the building.
Here's what we know:
Vaccinated residents (14 days after 2nd Pfizer or Moderna vaccination or 14 days after Johnson & Johnson vaccine)
Fully vaccinated residents may gather indoors or outdoors with other people who are fully vaccinated
Residents who are fully vaccinated can visit indoors or outdoors with unvaccinated people from a single household who are at low risk for severe COVID-19 infection
If the resident is fully vaccinated, they can choose to have close contact (including touch) with the persons they are visiting
Indoor and outdoor visits should be conducted following good infection control practices, such as wearing well-fitting masks that cover the mouth and nose, staying 6 feet from others (social distancing) when practical, and using good hand hygiene to reduce the risk of infection 
If a resident who is fully vaccinated chooses to attend a place of worship or other group events, or to shop or eat in public establishments, the resident should follow the core principles of COVID-19 infection prevention.
MDH strongly encourages attending places of worship or other group events only when the 14-day county percent positivity rate is below 5%. The positivity rate is the percentage of people who test positive for COVID-19 among all the people in the county who are tested
Unvaccinated residents
Contact the facility administration to review quarantine plans before taking a loved one out of a facility. Your unvaccinated loved one will be required to quarantine for 14 days before they will be allowed to participate in the community activities, dining, and leaving their apartments.
Resources
Residents and their loved ones may contact administrative staff in our communities with questions about visitation
Additional visitation guidance for long-term care and assisted living-type facilities, including flowcharts for outbreak status and exceptions
The Office of Ombudsman for Long-term Care is available if advocacy services are needed. Contact them at 651-431-2555 or 800-657-3591
Updated Visitation Guidelines:
The Minnesota Department of Health has come out with a strategic and careful re-introduction of visitation and activities guidelines for housing with services communities with an arranged home care provider, also known as assisted living-type facilities.  Information from The Centers for Medicare and Medicaid Services (CMS) for skilled nursing facilities was used as a resource to develop this guidance, in addition to documents from the Centers for Disease Control, the Minnesota Department of Health, and the Alzheimer's Association.
Outdoor visits are still the preferred method of visitation. No changes have made to the current recommendations for outdoor visits.
Indoor visits will now be allowed for visitors beyond Essential Caregiver and Compassionate Care visitors, however, certain criteria need to be met:
No COVID-19 cases are present in our community for 14 days prior to indoor visitation
Visitors must adhere to the core principles as outlined below

Children may need to be monitored as some may not be able to follow the core principles appropriately.

There will be a limit to the number of visitors that can see a resident at one time
We will limit the number of visitors in our building at one time
All visits need to be scheduled, and for a limited amount of time – similar to how we schedule outdoor visits
To limit the amount of visitor movement within our community, each visitor should go directly to the resident's room/apartment or designated visitation area.
If our county has a positivity rate greater than 10%, visits will be limited to essential care and compassionate care visits.
Balancing COVID-19 safety and visitation restrictions with the well-being of our residents in long-term care and other residential settings is an urgent priority for Minnesota.  Social isolation as a result of COVID-19 visitor restrictions is a significant concern and an issue that requires close cooperation between senior living/care communities, visitors, and local and state public health to address safely and successfully.
Visitation can be conducted through different means based on a community's structure and residents' needs, such as in resident rooms, dedicated visitation spaces, and outdoors: and for circumstances beyond compassionate care situations.  We are developing updated visitation opportunities to ensure core principles and best practices that reduce the risk of COVID-19 transmission are in place.
 
Core Principles of Visits
Screen for symptoms and temperatures are taken – Deny entry with any positive symptoms/elevated temperature
Hand hygiene at entry
Face masks at a minimum
Social distancing of 6 feet
Instructional signage
Clean/disinfect high touch areas frequently before and after each visit
Staff has access to appropriate PPE
Visitors who do not adhere to the core principles of safety will not be permitted to visit or will be asked to leave if after redirected does not comply.
We continue to follow the guidelines and restrictions determined by the Center for Disease Prevention (CDC) as well as the Minnesota Department of Health and Human Services.
​While we understand that this is incredibly difficult situation for the loved ones of our seniors and our residents, we are committed to protecting the health, quality of life and well-being of our patients and residents. 
UPDATE: Re-opening for Visitors Information
An Ebenezer "Reopen" Committee has been established, and is working to develop coordinated strategies as we begin the process for future loosening of restrictions within our senior living communities.  
​The committee meets weekly, and is addressing the following areas:  Community Salons, Family Visits, Activities, and Dining. The intent is to develop a measured approach to be carried out with caution and thoughtful detail to ensure the continued safety of our residents, families and team members.  Each of us have a big role to play in making this transition process successful, and we are grateful to you all for your continued patience and understanding as we all navigate these COVID-19 waters together.
Many of our communities are opening up to Essential Caregivers. Before you plan a visit to your loved one, click the button below and review this document to see if you meet the criteria for a visit.
Keeping Our Residents Safe
​While it looks like we are making progress with our pandemic planning and response, we are not out of the woods yet. It is precisely because of the sometimes asymptomatic, or long incubation period for this COVID-19 virus, that organizations such as Ebenezer have invested heavily in readiness, response, and communication with a spirit of transparency and evidence-based practice as key principles. We are confident in our people, our preparations and our protocols to prevent and to isolate the COVID-19 virus.
Staff Screening
We continue our daily screenings of all staff and are following appropriate direction as it has been communicated by Occupational Health, Minnesota Department of Health and the Centers of Disease Control.
Staff must enter and exit through one main door in the community. Staff will get their temperature taken and screened immediately after arriving to the building in a place where other staff members are not present.
Personal Protective Equipment (PPE)
Ebenezer has secured and delivered the PPE supplies needed at this time to all our communities. In the event a situation develops that indicates changes in our current protocols, we have plans in place with our supply chain, and we are working with MHealth Fairview to ensure we have a continuing supply of face masks and other protective equipment. It's times like these we are grateful to be part of this extraordinary organization.
Cloth Face Masks
​In our HUD communities, we have offered our residents a fabric mask and encouraged them to wear them while out of their apartments in the building or when they leave the building.
​Our HOA communities have requested that people wear a mask when entering building, and have requested that residents wear a mask when outside of their apartment.
Universal Masking and Face Shields
Ebenezer has implemented universal masking for staff members in all our communities. In addition, we will be implementing universal face shields along with universal masking for all staff members in our housing with services and skilled nursing communities as an additional "layer" of protection for our residents and staff in fighting COVID-19.
Guidance for Safe Transition Between Work and Home
Infection Prevention has created guidelines for healthcare workers to safely transition between work and home, reducing the risk of potential transmission of COVID-19 by contaminated objects or contact with the work environment. It outlines actions that can be taken by these workers prior to, during, and after work shifts to prevent transmission, including handling of personal items and work supplies, clothing recommendations, and direction on cleaning contaminated items.
Surveillance Testing
Ebenezer is doing surveillance testing of residents and staff at all our skilled nursing and assisted living/memory care communities. Surveillance testing allows us to identify positive COVID-19 cases among asymptomatic carriers, so we can better contain and prevent further spread.
​We are happy to report that all our communities in the metro area have finished their baseline testing. Those communities outside the metro are still in process. The number of positive cases continues to drop. And that's good news!
Virtual Tours and Move-Ins
Ebenezer is pleased to announce that in person tours are now available in our communities. Please note that we follow mask recommendations and social distancing. We would love to show you around our community. If you prefer, we can also set up a virtual tour for you in place of or in addition to an in person visit.
Thank You Ebenezer Associates!
Even before the COVID-19 outbreak, Ebenezer celebrated our many staff who carry through in our mission to serve our residents and their families every day.
They are our everyday Heroes, they embody a selfless spirit, dedicated to the care of the most vulnerable population. And now, more than ever, we thank you.